Orange Blueberry Sweet Rolls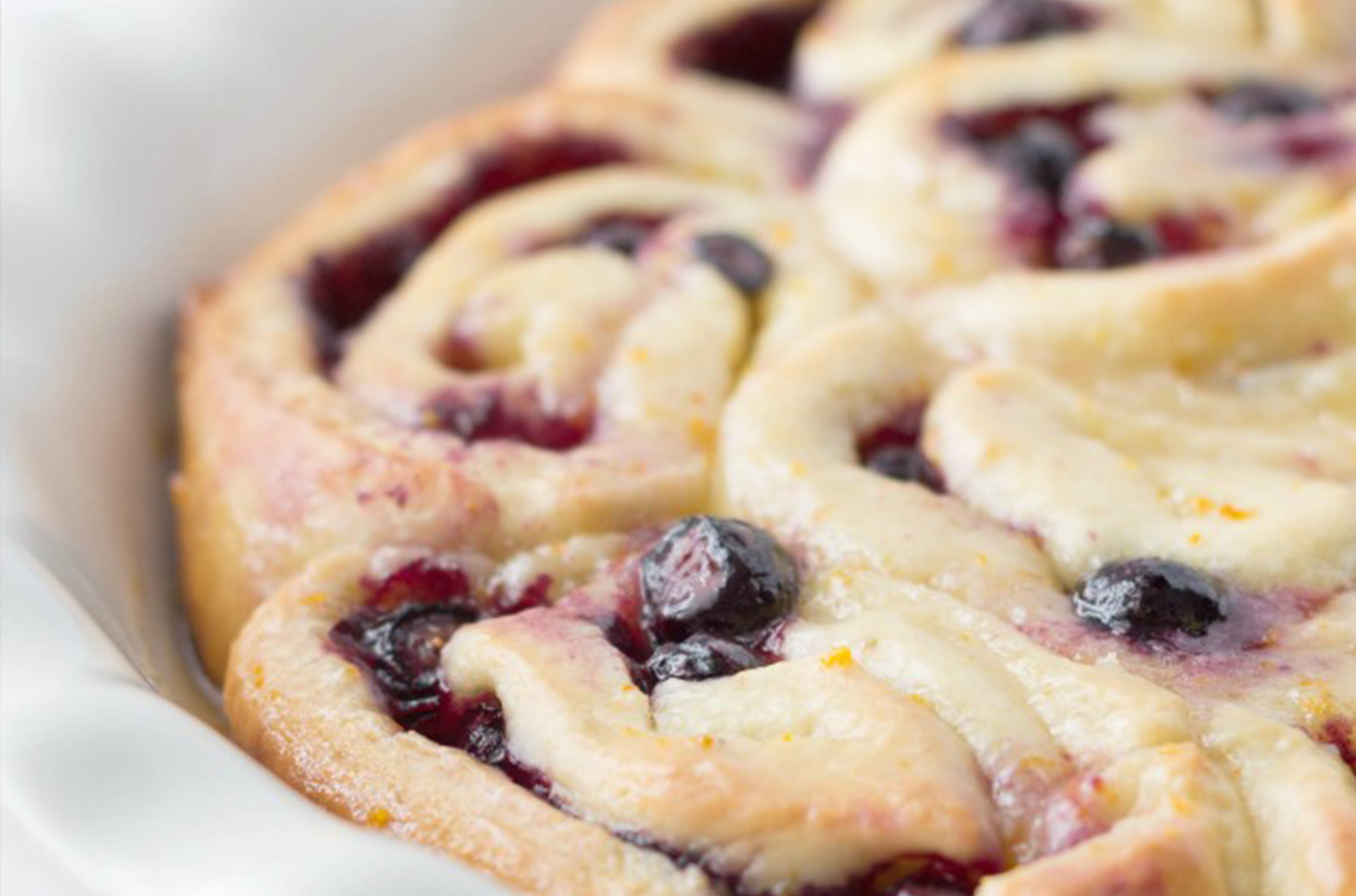 Ingredients
Rolls:
1/2 cup Warm water
1/4 oz. Package active dry yeast
2 tbsp. Sugar
1/2 cup Butter, melted
3/4 cup Warm milk
3/4 cup Sugar
1 egg, whisked
1 tsp. Salt
4.5 cups Flour
Filling:
1/2 cup Butter, softened
1 cup Sugar
Zest of 1 orange
4 tbsp. Natalie's Orange Juice
1-2 cups Blueberries
Glaze:
1/4 cup Natalie's Orange Juice
1/2 tsp. Orange extract (vanilla extract could be instead)
2 cups Confectioners' sugar
3-4 tbsp. milk
2 tsp. Orange zest
Directions
1. In a small bowl add warm water, yeast & sugar. Set aside for 10 minutes.
2. In a large bowl whisk together butter, milk, sugar, egg & salt.
3. Add yeast & slowly combine.
4. Add 3 cups of flour & stir to combine.
5. Add the remaining flour, then attach bread hook (mix for 5 minutes).
6. Add more flour if needed until the dough is soft & not sticky.
7. Cover the dough with plastic wrap & allow to double in size (about 90 minutes).
8. Once your dough has doubled in size, punch it down & roll out on a floured surface.
9. Spread filling onto the dough with a bakers brush, top with blueberries & roll up.
10. Cut the dough into 12-15 equal pieces.
11. Place dough onto a greased baking dish with rolls about 1″ apart.
12. Allow the rolls to sit for one hour.
13. Bake at 350°F for 20-25 minutes or until golden brown. Keep an eye on them so the tops don't get TOO brown.
14. Mix together the glaze ingredients & pour over the rolls as soon as they come out of the oven.
Serve promptly.
Recipe by: Made to be a Momma