available in 16 oz. 32 oz. 64 oz. & 128 oz. view pack sizes
Grapefruit Juice
What's in it? Only 1 ingredient
Grapefruit
Nutrition facts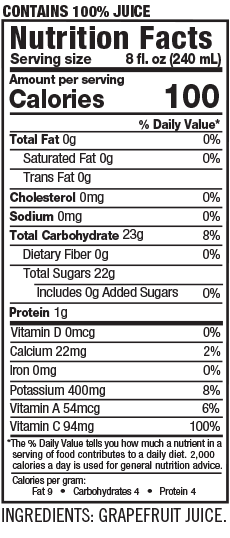 Health benefits
Ripe grapefruit makes up this single-ingredient juice fresh grapefruit juice that was voted Best Tasting by Cook's Country Magazine. Grapefruits are rich in vitamin C, fiber & potassium, & are known to support healthy immune function & skin development.
Clean & pure
No preservatives, no artificial ingredients, no added sugar, no GMOs.
Our promise
Honestly sourced, freshly handcrafted, minimally processed.
Care instructions
Our fresh Florida grapefruit juice must be kept refrigerated between 32-36°F.