Natalie's Featured in The New York Times
Lifting the Second-Generation Curse
Date: July 13th, 2016
Natalie Sexton jokes that her earliest memory is being rocked to sleep on the machinery bottling her mother's line of all-natural juices. She was just an infant when Marygrace Sexton started Natalie's Orchid Island Juice Company in 1990, naming it after her.
"This is all I've known," Ms. Sexton said.
Twenty-six years later, she is preparing to take over her family's business in the coming decade. The company, based in Fort Pierce, Fla., has expanded from its humble beginnings. Her mother had to borrow the butcher's truck at night to make deliveries. Now, the company has 100 employees and distribution in 32 states and 34 countries.
For Natalie, expanding while keeping the business debt-free, as her mother has, remains an important goal.
"We are building a company to last," Ms. Sexton said. "Marygrace instilled this in me from a young age."
Looming over her is the statistic that only 30 percent of family-owned businesses make it through the second generation. That data is from 1987, but experts say it still holds true today. It is known as the second-generation curse.
With "many of the families that stumble into the second generation and then fail," said John A. Davis, a Harvard Business School professor, "you'll see a pattern where the second generation wasn't developed well and the first generation stayed on too long and didn't let the next generation take the reins or experiment."
More than three million family-owned businesses in the United States face the issue of how to beat the odds. The three critical goals for such companies are to bring on board and train the next generation, plan for succession and let go when the time is right.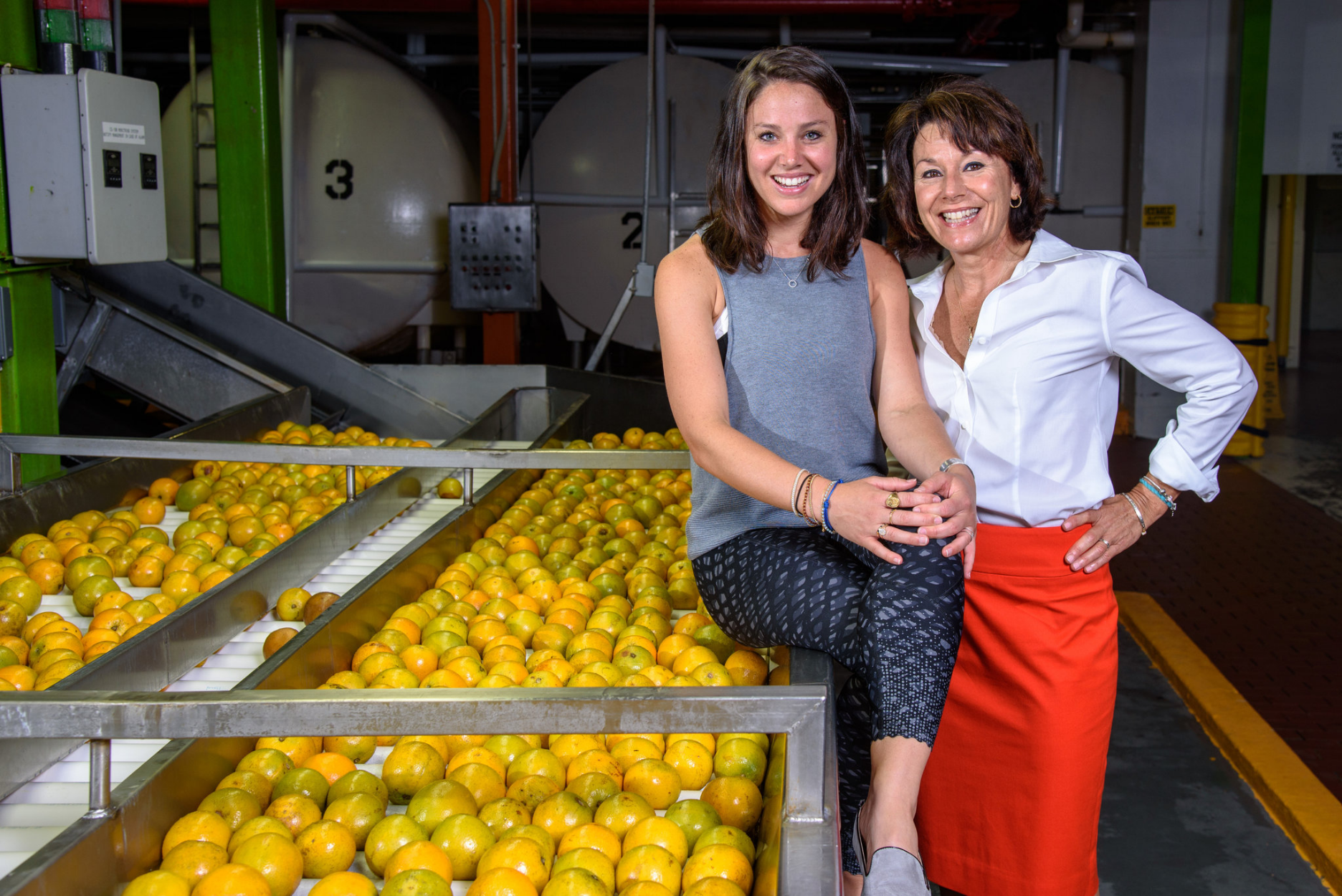 Credit Brad Barr for The New York Times
For the Sextons, identifying who would lead the next generation was easy. The company was named after Ms. Sexton, who always knew she wanted to follow her mother, though there were some sore points when Natalie was younger, Marygrace Sexton remembered.
"One day, Natalie was crying and said, 'I have no mother; I just have a C.E.O.,'" Mrs. Sexton said.
Other children, however, have had to prove themselves to their parents before even being hired at the family firm, let alone taking the helm. Suzanne Groth, whose family owns Groth Vineyards & Winery in Napa Valley, did not initially want to be involved in the business. Everyone assumed her brother, who has an M.B.A., would take over. But he wasn't interested.
Ms. Groth, after burning out on postcollege hospitality jobs, decided she wanted to be back in the wine business after all. When she asked her father, she didn't get the answer she expected.
"He said, 'You didn't think you were going to get a job here, did you?'" Ms. Groth remembered. "'You don't have any experience.'"
Her father, Dennis Groth, remembered the conversation going more gently, but the end result was the same. Ms. Groth took a job with a local distributor to learn the sales side of the business.
After working at the distributor for five years, she joined the vineyard as the regional sales manager. Today, she is the vice president for sales and marketing at the 121-acre winery, which has 30 employees, and she is on track to become what the business calls its managing member.
More families are choosing their daughters over their sons, said Mr. Davis of Harvard, who is also founder of Cambridge Family Enterprise Group, a consulting and research firm. "It's still not at parity, but the playing field is much more level," he said. "Families are becoming more talent-oriented."
Frank Venegas Jr. has both a daughter, Linzie, and a son, Jesse, working at the Ideal Group, a Detroit manufacturing and construction services company he started in 1979 with $12,000 he earned selling a Cadillac Coupe DeVille that he won in a raffle. Today, the Ideal Group employs 850 and has four divisions.
Ms. Venegas is the vice president for marketing, finance and human resources, while her brother runs one of the divisions. But which one will lead the company is still not known.
"God knows what will happen," Mr. Venegas said. "But they separate roles really well."
In the meantime, he has begun transferring stock to his children and putting an official succession plan into place to clarify roles and titles. He is now the chairman and his brother Loren is president, acting as a bridge to the next generation.
"I always hated all of those titles," he said. "They don't mean anything. But they really do in a transition phase because if you don't have a place to write in what everyone is supposed to do, it gets real shady."
Such formal succession planning, however, is not that common among family enterprises. The latest PricewaterhouseCoopers Family Business Survey, published last year, found that almost three-quarters of family businesses do not have a succession plan for senior roles and that half of the founders stay involved "longer than is optimum." Addressing what the report called the "sticky baton syndrome," when the founder is not willing to let go even when it's time, is perhaps the most difficult conversation among family members.
"With a founder generation struggling to let go, we often see them hand over the title, but they don't really give over the control or the leadership," said Jonathan Flack, a partner in PricewaterhouseCoopers and leader of its family business services in the United States.
So many lines are blurred in family business that lack of communication kills many firms making the generational transition.
"You have to be able to talk about the business issues and confront issues when they exist," Mr. Davis said. "You need to have leadership and parenting to be able to keep this thing going."
To avoid family conflicts, the Groth family created the title of managing member to identify the person responsible for making final decisions for the business. Dennis Groth now holds that title, and Suzanne Groth is learning how to make her proposals to him for changes.
"My father has always planned everything on a spreadsheet," she said. "So if I want my father to bite down on something, I get him to look at the numbers."
When she wants the support of her mother, Judy, she changes her approach. "With my mother, it's best if it's her idea," she said. "I plant the seed and hope it grows."
Ms. Groth is trying to persuade them to adopt screw cap bottles instead of using corks. But her mother associates them with low-cost fortified wines. "She remembers when Thunderbird would be left on the street by the bums," Ms. Groth said. "That's not the wine she's making. So I have to ultimately respect the people who are running the business."
Even at small operations, the division of labor is critical. Sweet Potato Sensations, a bakery in Detroit with 15 employees, ensures that each family member stays in a "lane of expertise." Espy Thomas is the Queen of Awesomeness, responsible for all customer-related duties, such as social media and branding. Her sister, Jennifer, the Master Product Formulator, develops recipes for the various products, which include sweet potato pie, cake, ice cream and waffles.
"My sister is the reason why everything gets done," Espy Thomas said.
Neither sister planned to be a part of the business — they had enough of lugging potatoes and smelling like pie when they were children. But both came back nearly 15 years ago. Now, Espy can't imagine not being a part of the business and shaping it for the future.
So far, they think they will escape the second-generation curse. They persuaded their parents to build out a cafe rather than just serving baked goods. Now, they are considering expanding beyond sweet potato recipes because of customer demand.
But the sisters are trying to help their parents, Cassandra and Jeffery, step back from the business.
"Even though it's challenging working with my parents every day, I like it," Espy Thomas said. "I feel like our parents have tried to create a legacy for us. I am passionate about that legacy. I don't want to see what they created just go away."
Article by: 
Read the full article at NYTIMES.com