Blood Orange Bliss Bars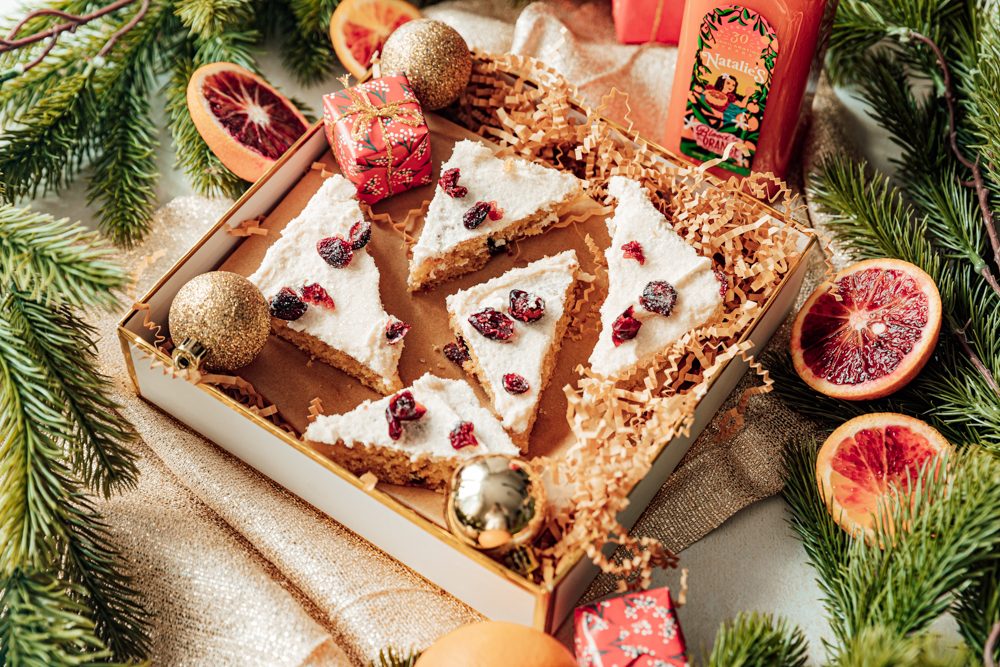 Ingredients
1 cup butter, softened
1 cup brown sugar
2 eggs
1 tsp orange extract
¼ cup Natalie's Blood Orange Juice
2 cups flour
1 tsp baking powder
1 tsp ground ginger
½ cup candied blood orange
Zest of two blood oranges, separated
Turbinado sugar for topping
Frosting:
8 oz cream cheese, softened
¼ cup butter, softened
¼ cup Natalie's blood orange juice
2 cups powdered sugar
Directions
1. To make the bars, preheat the oven to 350 degrees.
2. In a stand mixer beat together the softened butter and brown sugar for 3 minutes.
3. Beat in the eggs and orange extract until just incorporated.
4. In a medium bowl sift together the flower, baking powder, and ground ginger.
5. Slowly add this flour mixture to the stand mixer and mix until incorporated.
6. Slowly pour in the blood orange juice.
7. Finally mix in the candied orange peel and orange zest.
8. Pour the batter into a buttered 10×13 baking dish.
9. Bake for 20-25 minutes.
10. Remove when done, and set aside to cool
11. Prepare the frosting by beating together the cream cheese and butter in a stand mixer.
12. Add in the powdered sugar ½ cup at a time, letting it fully mix in each time.
13. Lastly, add in the remaining orange zest and slowly add in the blood orange juice.
14. When ready to serve, top with a few more pieces of candied blood orange (or
cranberries) and a sprinkle of turbinado sugar. Enjoy!