Cranberry Orange Pavlova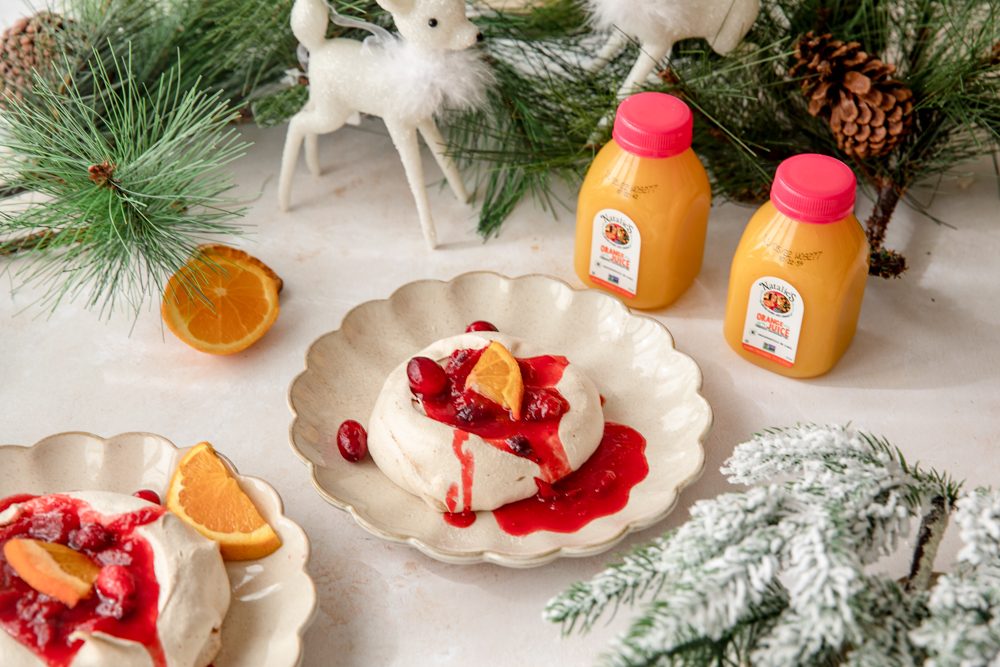 Ingredients
4 egg whites, room temperature
Pinch of salt
1 cup white sugar
1 tsp cornstarch
2 tsp white vinegar
1 tsp vanilla
1.5 cups heavy cream, cold
2 tsp powdered sugar
½ cup fresh cranberries
8 oz Natalie's orange juice
Orange slices for garnish
Directions
1. Preheat the oven to 250 degrees
2. In your electric mixer with the whisk attachment beat the egg whites and salt on medium- high for a few minutes until the eggs become white and glossy
3. Beat in the white sugar a few tablespoons at a time and beat for 5 more minutes until
you get stiff peaks.
4. Stop the mixer and add in the cornstarch, vinegar, and vanilla by folding in with a
spatula.
5. Carefully scoop a small 5 – 6 inch round of the meringue, using a large spoon or two
spoons, onto a lined baking sheet. You should have two sheet pans of 5 or 6 meringues
each.
6. Using the back of the spoon, make a small indention in each of the mounds.
7. Bake for 35 minutes, turn off the oven and let them set in the oven for 1 hour to finish cooking.
8. While these are finishing the cooking process, prepare the topping by heating the orange
juice and cranberries in a saucepan.
9. When it comes to a light simmer, use the back of a spoon to start breaking up the
cranberries.
10. Bring to a boil and continue to stir gently until it begins to thicken, about 5 – 6 minutes.
11. Remove from heat and set aside.
12. Once the pavlovas are cooled and the topping is cooled, add a scoop of the topping to
each indention in the meringues.
13. Top with small orange slices and enjoy!
You might be interested in these