Arugula Salad with Tangerines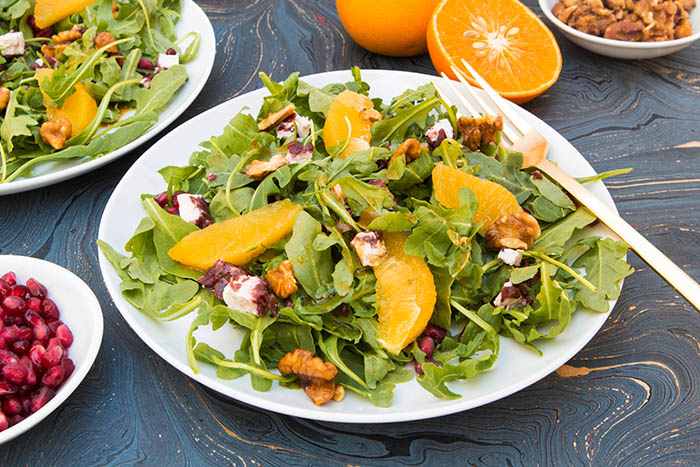 Ingredients
For the Dressing:
1/2 cup Natalie's  Tangerine Juice
1/4 cup Lemon Olive Oil
1/4 cup Balsamic Vinegar
1 tbsp. Tangerine Zest
2 tbsp. Sugar
Salt & pepper, to taste
For the Salad:
1 – 8 oz. bag of arugula, washed & dried
Seeds from 1 pomegranate
2 Tangerines, sliced into wedges
4 oz. Goat Cheese, crumbled
1/2 cup Candied Walnuts
Directions
(Yields 6 Servings)
1. In a small mixing bowl, whisk together the tangerine juice, lemon olive oil & balsamic vinegar.
2. Add the tangerine zest, sugar, salt & pepper (to taste). Whisk until the sugar dissolves & set aside.
3. Add the arugula to a large salad bowl (or plate individually).
4. Drizzle as much dressing as you like & gently toss to combine.
5. Top with pomegranate seeds, tangerine wedges, goat cheese crumbles & candied walnuts.
6. Enjoy immediately & refrigerate extra dressing in an air-tight container for up to 2 weeks.
Recipe by: Sarah Hearts