Orange Beet Maple Salad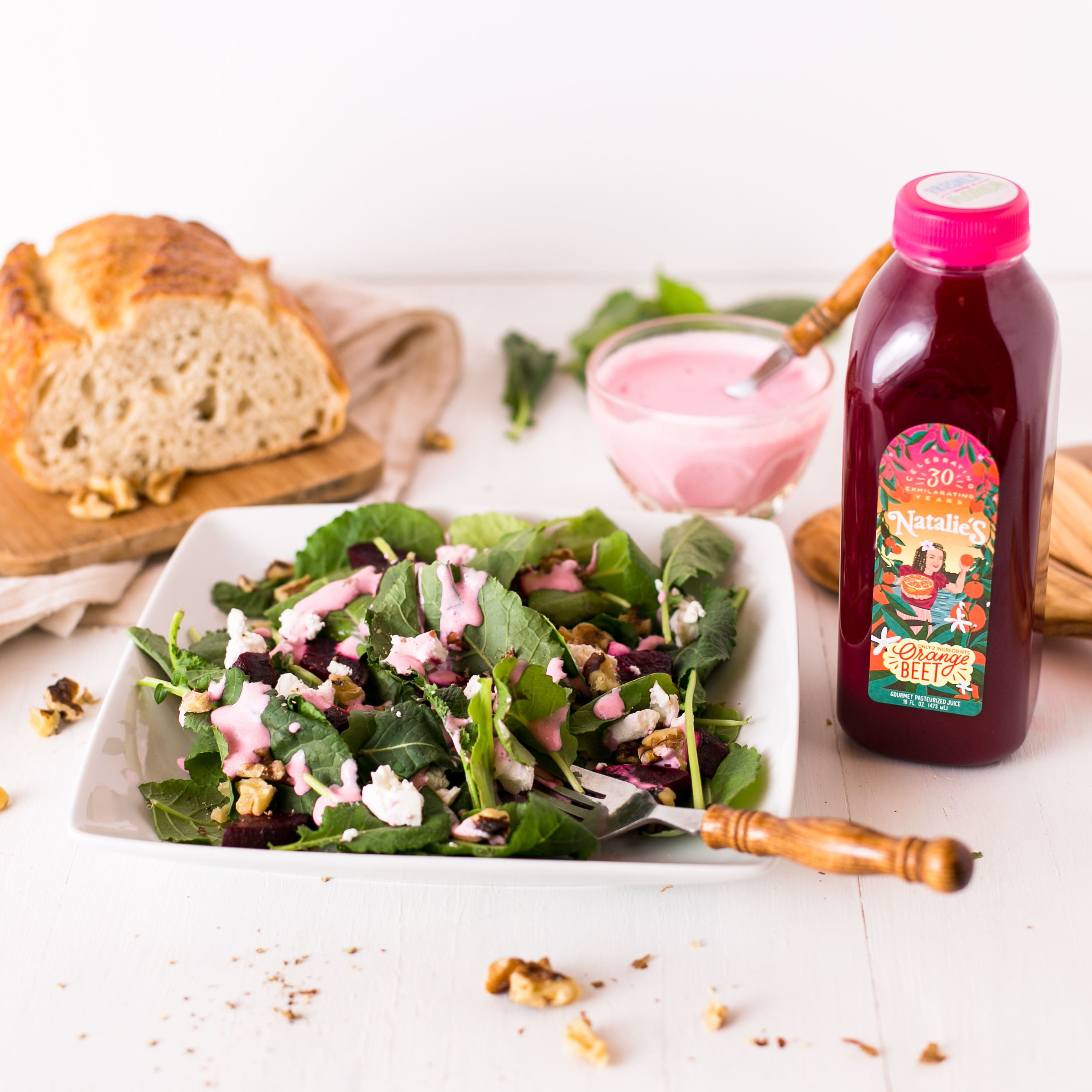 Ingredients
Salad Dressing:
1⁄2 cup sour cream
2 Tbsp. Orange Beet juice
2 tsp. dijon mustard
1⁄2 tsp. salt
1⁄4 tsp. pepper
1 Tbsp. Maple syrup
Dash of soy sauce or tamari
Salad:
3-4 medium sized beets
2 Tbsp. olive oil
Salt & pepper to taste
5 oz. baby Kale
4 oz. Goat cheese, crumbled
1⁄2 cup walnuts
Directions
Salad Dressing:
1. Combine all ingredients in a medium bowl & whisk until smooth. Refrigerate until ready to serve.
Salad:
1. Pre-heat oven to 375 degrees. Wash beets, cut off the tops & the roots.
2. Line a baking sheet with aluminum foil. Toss beets with oil & season with salt & pepper. Then, place beets on the baking sheet. Cover them another layer of aluminum foil.
3. Bake for 40-50 minutes or until beets are tender when pierced with a knife. Let beets cool for 10 minutes. 4. Chop them into 1⁄2 inch pieces. Then refrigerate them until they are well chilled.
5. To assemble the salad, line a large bowl with baby Kale.
6. Top with beets, crumbled goat cheese & walnuts. Toss to combine.
7. Serve with Creamy Orange Beet Maple Dressing.