Orange Mango Braised Fish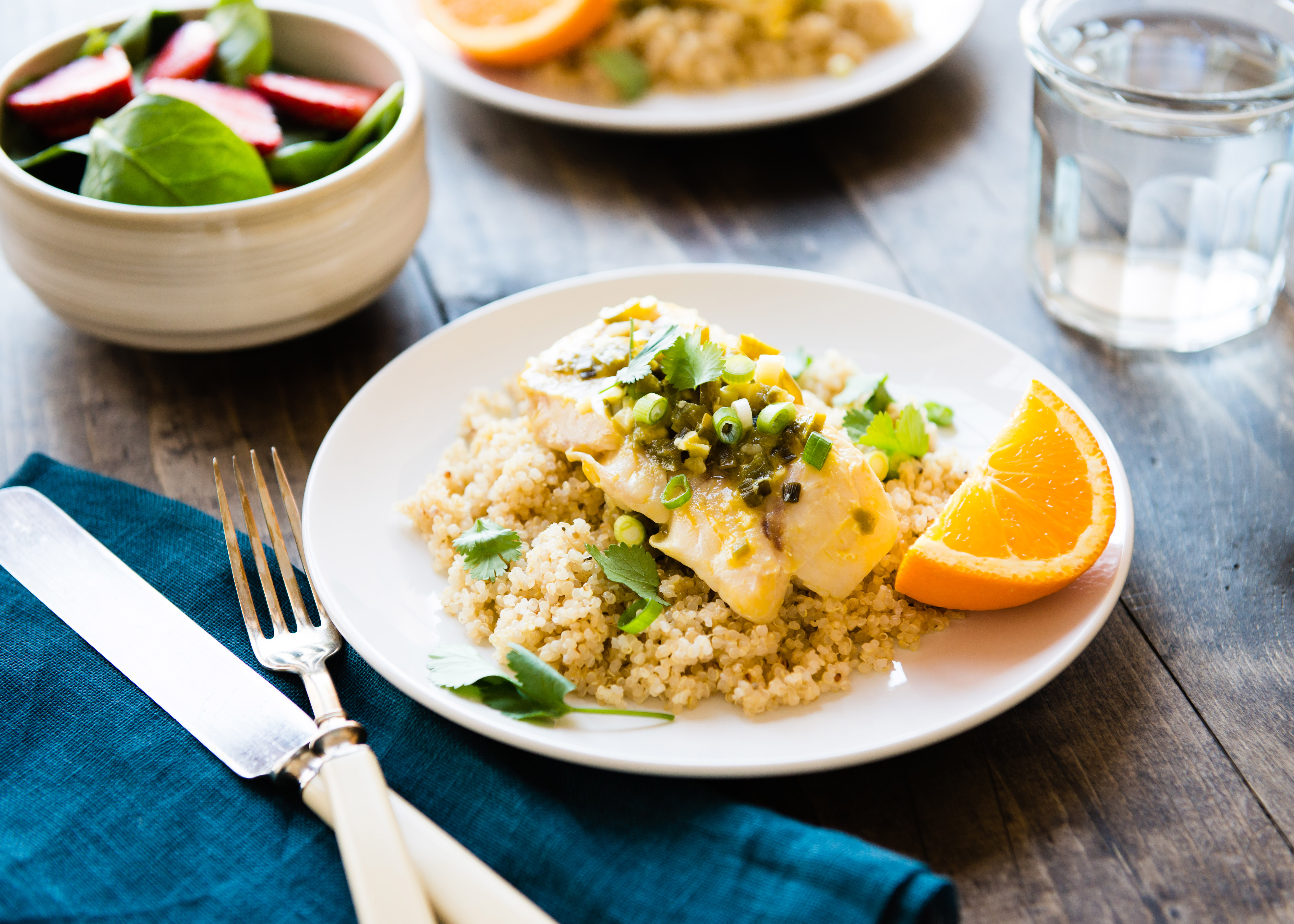 Ingredients
Fish:
2 tsp. Coconut oil
1/2 cup Sliced green onions
1 Large jalapeño, minced (remove seeds and ribs to make it less spicy)
3 Garlic cloves, minced
3/4 cup Natalie's Orange Mango Juice
Sea salt, to taste
(4) 6 oz. Pieces of wild-caught, mild-flavored fish (i.e. mahi-mahi, red snapper, cod, or halibut)
Coconut Quinoa:
1 cup Uncooked quinoa, rinsed well*
4 oz. Can light coconut milk
1/2 cup Water
2 tbsp. Natalie's Pure Lime juice
1/2 tsp. Sea salt
Garnish:
Fresh cilantro sprigs
Green onions
Directions
Fish:
1. Heat a large skillet over medium-high heat.
2. Add the coconut oil & allow it to melt.
3. Add the green onions & jalapeño.
4. Cook, stirring frequently for 1-2 minutes.
5. Add garlic & cook, stirring constantly until fragrant, about 30-60 seconds.
6. Add the orange mango juice & bring to a simmer.
7. Lower heat & let juice cook until it thickens slightly, about 5-10 minutes.
8. Season fish on both sides with sea salt.
9. Lay fish in the pan, cover with a lid, & let cook over low heat until fish is cooked thoroughly (about 10 minutes).*
*Note:
Thicker fish fillets may take longer.
Coconut Quinoa:
1. Place rinsed** quinoa, coconut milk, water, lime juice & sea salt in a 3 qt. pan that has a tight-fitting lid.
2. Bring to a simmer, place lid on top, then lower the heat a bit so it doesn't boil over.
3. Cook for 20-25 minutes, or until all of the liquid has been absorbed & quinoa is cooked through.
**Note:
Rinsing the quinoa in water helps remove the naturally bitter saponin coating.
To Serve:
1. Divide the quinoa between four plates.
2. Place a piece of fish on top of each one & spoon some of the sauce over the top.
3. Sprinkle with cilantro & green onions.
4. Serve with steamed veggies or a green salad.
Recipe by: Café Johnsonia
You might be interested in these