Orange Mango Cinnamon Rolls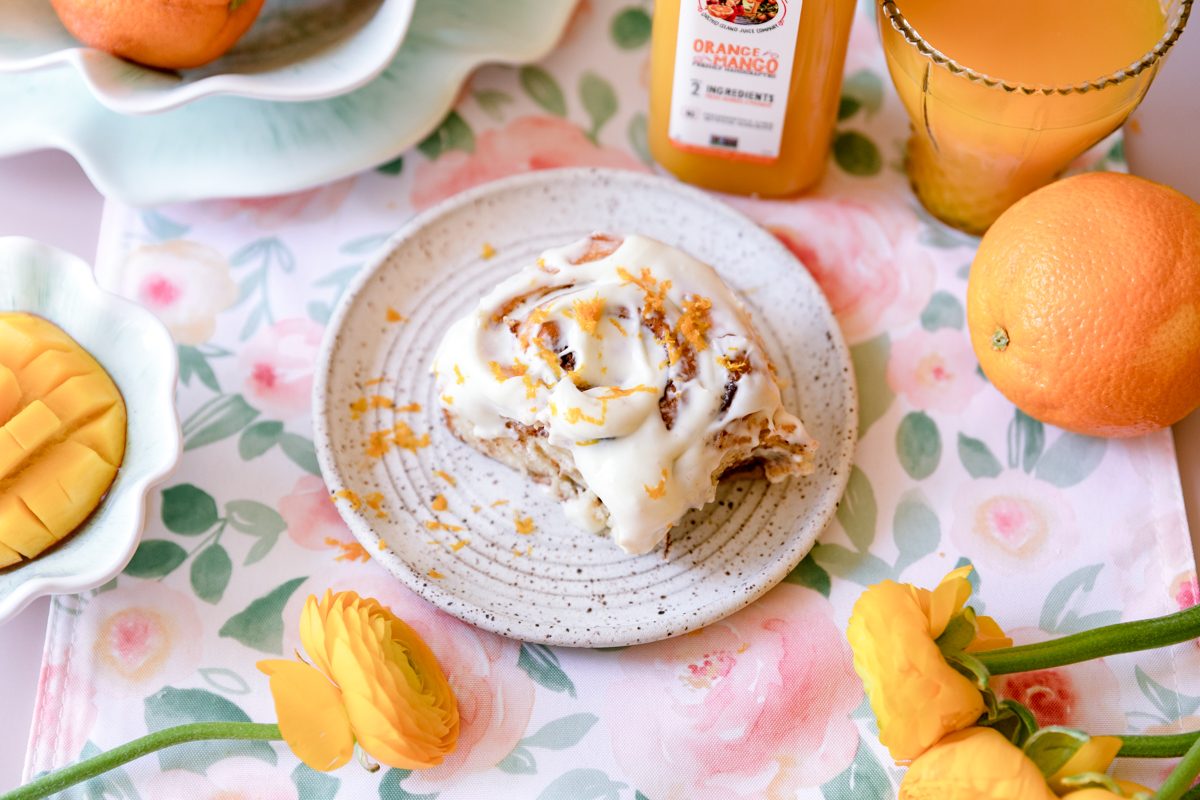 Ingredients
1 packet instant yeast
¾ cup milk
¼ cup sugar
1 egg
1 egg yolk
¼ cup melted butter
3 cups flour
1 tbsp cinnamon
1 tsp ground clove
Zest of 1 blood orange
½ cup sugar
¼ cup melted butter
4oz cream cheese
4 tbsp butter
2 cups powdered sugar
¼ cup Natalie's Orange Mango juice
Directions
1. Put the milk in a small bowl and microwave for 30 seconds. Sprinkle the yeast on top and let sit for 5 minutes.
2. In a stand mixer bowl, combine the yeast mixture, sugar, egg, egg yolk, and melted butter with a whisk.
3. Add the paddle attachment to the stand mixer and one cup at a time, add in the flour, stirring in between each addition.
4. Once all of the flour is added, turn the stand mixer on medium and knead the dough for 8 minutes.
5. Cover the bowl and let the dough rise for 30 minutes.
6. Once the dough has doubled in size, turn it out onto a floured surface and roll out into a 9×13 rectangle.
7. In a small dish combine the cinnamon, ground clove, and orange zest.
8. Spread ¼ cup softened butter on the dough and sprinkle the cinnamon mixture over it.
9. Begin rolling the dough tightly and place seam side down.
10. Slice the log of dough into 9 rolls and place in a greased 9×9 baking dish.
11. Set aside to rise for 30 more minutes and preheat the oven to 400 degrees.
12. After the second rise, bake the cinnamon rolls for 18-20 minutes.
13. While that bakes, in a saucepan over medium high heat add 8oz. of Natalie's Orange Mango juice.
14. Bring to a boil and reduce the heat to medium low and allow to simmer to reduce the Natalie's Orange Mango juice to a syrup.
15. Remove the saucepan from the heat and set aside to slightly cool while you prep the frosting.
16. In a mixing bowl using a hand mixer, combine the softened cream cheese and butter. In 1⁄2 cup increments add in the powdered sugar.
17. Once that is combined well, pour in 1⁄4 cup of the reduced Natalie's Orange Mango juice and blend again.
18. Remove the cinnamon rolls from the oven and pour the icing over the warm cinnamon rolls and spread with a spatula. Top with extra orange zest and enjoy!