Sweet Potato Casserole with Orange Juice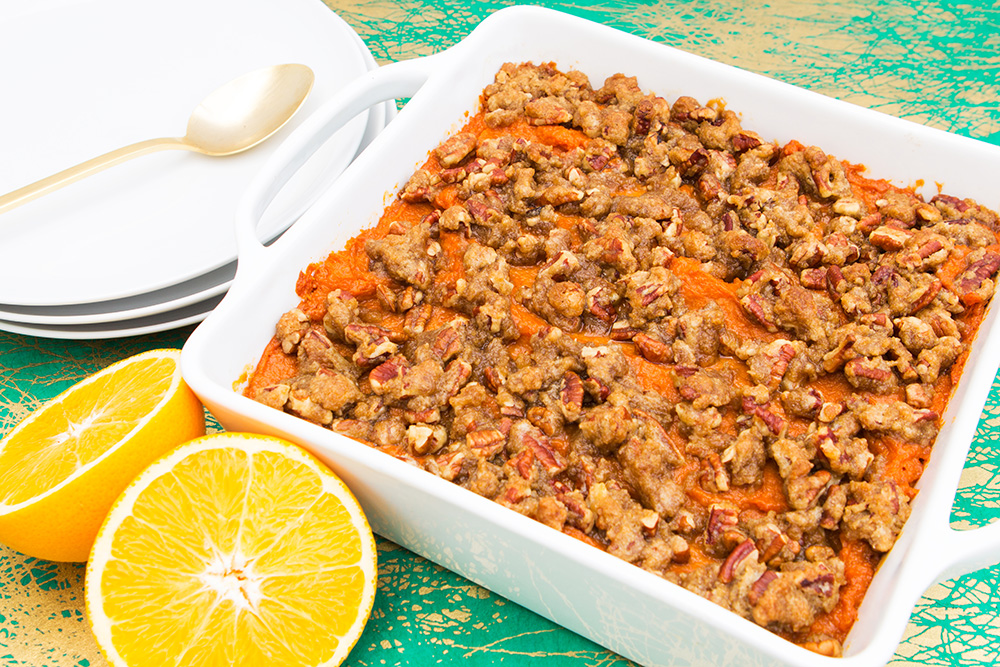 Ingredients
For the Sweet Potatoes:
3 Large Sweet potatoes (around 3lbs.)
1/2 cup Natalie's Orange Juice
1/2 cup Brown Sugar
1/4 cup (4 tbsp.) Unsalted butter, melted
1 tsp. Cinnamon
1/2 tsp. Nutmeg
Zest of 1 orange
For the Casserole Topping:
1 cup Pecan pieces
5 tbsp. Unsalted butter, melted
1/3 cup Flour
1/4 cup Brown sugar
Directions
(Yields 8 Servings)
1. Heat oven to 400°F. Pierce all sides of each sweet potato with fork.
2. Place sweet potatoes on a baking sheet, & bake in the oven for an hour or so, or until soft. Remove from oven & allow to cool.
3. Once cooled, peel the baked sweet potatoes, & place in a large mixing bowl. Mash slightly with a fork or potato masher.
4. Add orange juice, brown sugar, melted butter, cinnamon, nutmeg & orange zest into the bowl.
5. Use a hand mixer to combine all ingredients & to make the potatoes slightly fluffy.
6. Heat the oven to 350°F. Meanwhile, make the pecan topping.
7. In a small bowl, combine the pecan pieces, melted butter, flour & brown sugar.
8. Toss until the pecans are evenly coated with the mixture.
9. Spread the sweet potato mixture into a casserole dish. Top with the pecan topping & bake uncovered for 30 minutes, or until pecans are golden brown. Serve warm.
Recipe By: Sarah Hearts