Spring Salad with Mango Orange Cilantro Vinaigrette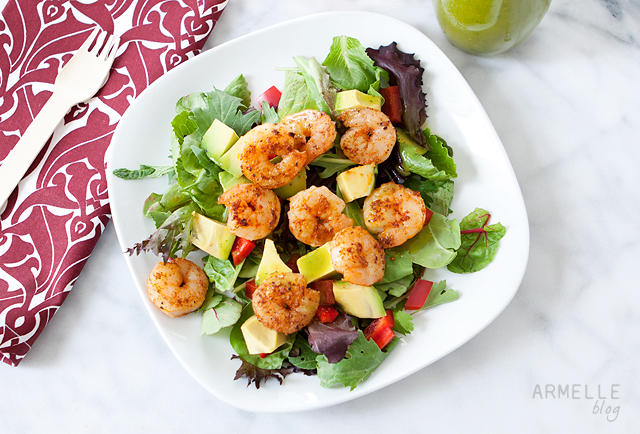 Ingredients
Mango Orange Cilantro Vinaigrette
1 Garlic clove
1/2 Bunch of fresh cilantro, washed
2-3 tbsp. red onion
1/3 cup Champagne vinegar
1/2 cup Natalie's Orange Mango Juice
1 tsp. Natalie's Pure Lime Juice
1 tsp. Natalie's Pure Lemon Juice
3/4 cup extra virgin olive oil (good quality)
Sea salt & fresh ground pepper, to taste
Shrimp
1/2 lb of shrimp, tails removed
dash of garlic salt
dash of paprika
dash of garlic powder
dash of fresh ground pepper
dash of sea salt
1/2 tbsp coconut oil
Salad
Mixed greens
1 Red pepper, diced
1 Avocado, diced
Directions
Mango Orange Cilantro Vinaigrette
1. Place all items (except olive oil) into a blender.
2. Drizzle in the olive oil in until all ingredients are blended together.
3. Add salt & pepper to taste.
Shrimp
1. Rinse shrimp with water, pat until completely dry.
2. Season the 1/2 lb. of shrimp (tails removed) with garlic salt, paprika, garlic powder, fresh ground pepper & sea salt.
3. Heat 1/2 tbsp. of coconut oil in a skillet over medium heat.
4. Place shrimp into the skillet, be careful to not crowd the pan to make sure they will cook evenly & not become rubbery.
5. Cook for about 2 minutes per side.
6. Remove from skillet, & set aside.
Salad
Dice red pepper and avocado, toss with mixed greens.
To Serve
Top salad with shrimp & vinaigrette.
Recipe by: Caroline Drake