Tangerine Mini-Bundt Cakes with Bourbon Tangerine Glaze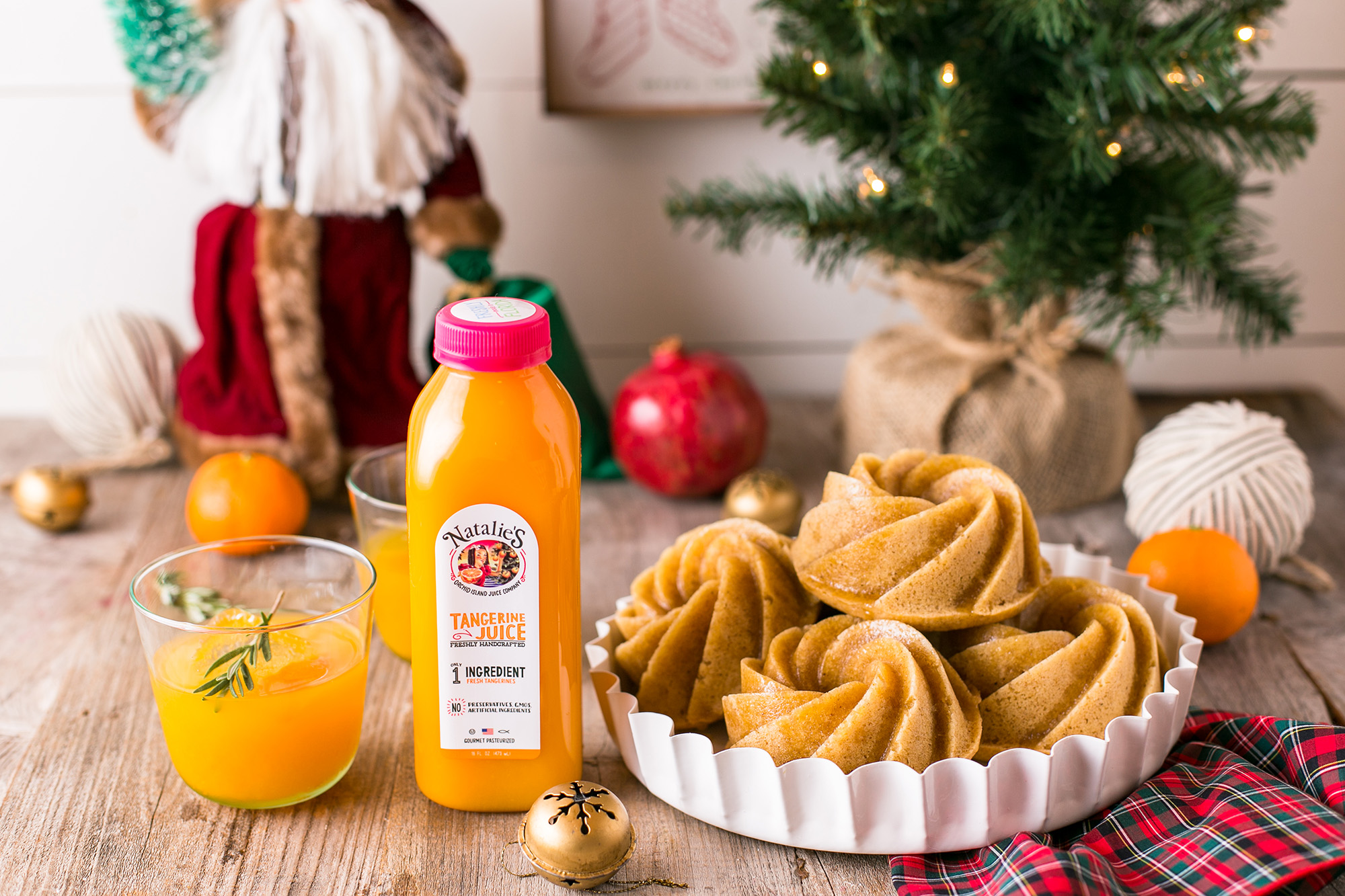 Ingredients
Cakes:
1.5 cups All-purpose flour
1/4 tsp. Baking powder
1/4 tsp. Baking soda
1/4 tsp. Kosher salt
1 tsp. Ground cinnamon
1/4 tsp. Ground ginger
1/4 tsp. Ground nutmeg
1/8 tsp. Ground cloves
8 tbsp. Unsalted butter, room temperature
1 cup Sugar
2 Eggs, room temperature
2 tbsp. Grated orange zest
1/4 cup Natalie's Tangerine Juice
3 oz. Whole milk, room temperature
1 tsp Pure vanilla extract
Glaze:
1 cup Granulated sugar
1/4 cup Bourbon
1/4 cup Natalie's Tangerine Juice
7 tbsp. Butter
Directions
(Yields 6 Mini-Bundt Cakes)
1. Preheat oven to 350°. Grease and flour a 6 count mini-bundt pan.
2. In a medium bowl, combine flour, baking soda, baking powder, salt, cinnamon, ginger, nutmeg, and cloves. Stir well to combine. Set aside. 
3.  With a stand mixer or hand mixer, cream butter and sugar for at least 5 minutes, or until light and fluffy. Add eggs to the sugar mixture one at a time. Then add in orange zest. 
4. Combine milk, juice, and vanilla in a small bowl.  
5.  Add flour mixture and milk mixture alternately to the sugar mixture, beginning and ending with the flour mixture. Mix each addition until well combined. 
6.  Pour into prepared mini-bundt pan. Bakes for 20-25 minutes until a cake tester comes out clean. Remove cakes from oven and cool them on a rack for 10 minutes. Remove cakes from the pan and cool to room temperature. 
7. Prepare the glaze by combining sugar, bourbon, tangerine juice and butter in a small saucepan. Cook over low heat, whisking until the butter is melted and sugar is dissolved. Spoon glaze over the cooled cakes.